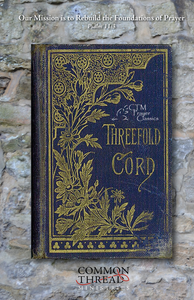 CTM Publishing
The Threefold Cord - A CTM Prayer Classic Reprint
Regular price
$11.99
Sale price
$16.95
This is a 2016 reprint of the original that was published in the 1830s by the American Tract Society. It provides a way to pray scripture every day by looking at a Precept, a Promise and a Prayer.
A Three-Fold Cord
HOW TO USE THIS BOOK:
The original book was designed to be "Daily Food" for the reader, and while we want that to continue, we have added a twist to that expected use. If you have heard us speak, you know that we are all about teaching people to Pray Scripture Back to God. As such, we would ask you to take each dayís verses and begin to try and pray them back to the Lord.
To help you, we have put only five days verses on each two-page spread and for the fifth day, we have written an example prayer.
Figuring out why the original author put certain verses together is sometimes a challenge. I admit that it was and is a challenge to me at times. BUT, when you do understand their reason for being together, the passages are illumined in a way that will deeply bless you. AND, as a bonus, you will see much more in the passages that are already ìfamiliarî to you.
One final thought about using this book. DO NOT let yourself become legalistic! If you miss-a-day (or more) then simply pick up your daily praying on the current date and DO NOT feel, compelled/forced to complete the ones you missed. If you can, great, but DO NOT let this become legalistic. If you do, the book will end up sitting on the shelf. Too many of us can easily look at prayer as a drudgery, so protect yourself from that potential issue by NOT being legalistic about this bookís use.

A HISTORY OF THE ORIGINAL BOOK:
There wasn't a lot of information about this book, even after we talked to the American Tract Society. If you find more information please forward it to us as we would love to include it in the next revision. Here is what we did find though:
In the September 1966 periodical – Miniature Book News – is the following description of this book:

. . . . Of [from] the American Tract Society entitled A THREEFOLD CORD: Or A Precept, Promise, and Prayer, From The Holy Scriptures For Every Day . . . This book copied from its English equivalent consists of Bible extracts . . . contains 208 pages, measures 3 1/8 by 2 3/8 inches, and comes in different colored cloth boards, undated but about 1830. . . .

Please note the original title page from the volume in our possession that is on an earlier page. And, after this introduction is the first four pages of the original book, representing the Precept, Promise and Prayer for January 1 through part of January 8th.

APPENDIX NOTES:
Over 1000 verses are listed in the back of the book, as noted above. Let this devotional become more than a quick daily read. With over a thousand verses you can also let its mingling of verses supplement your other Bible studies.

Also in the back of the book is an appendix of Themes that you may want to go to directly. Please recognize, these are only our applications of the verses. You may find, and will find, NUMEROUS other ways that you can apply these verses to your life. And believe me, even now, as we go through these prayers, we want to add themes. So, please, add themes as you desire.
---
Share this Product
---