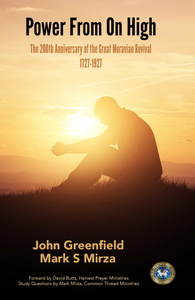 CTM Publishing
Power From On High (Digital)
Regular price
$4.99
Sale price
$14.95
Digital Version .PDF Size:
118 Pages
9 x 6
The original 1928 book with an added study guide to go with a classic history of the Moravian Revival and Prayer movement.
The movement began in 1727 and this history, written by Rev. John Greenfield, a Moravian Evangelist, was published in 1928 for the 200 hundredth anniversary of the great Moravian Revival.
Also included is an introduction to the 1931 edition, written by Grace Woods.
As you read this, let the Holy Spirit prompt your heart to:
1) Renew your views on revival (Luke 24:49)
2) Review your assurance of your salvation (Romans 8:16)
3) Reflect on your life as one called unto good works (Ephesians 2:10)
We have kept the same wording styles and punctuation used at the original printing, including where no periods were put, we let that style remain. We have corrected several particular printing issues – consistent with older printers – regarding punctuation marks. Many of them sit a space beyond where they should be. For example, "faith ;" has been changed to "faith;" and so on.
---
Share this Product
---