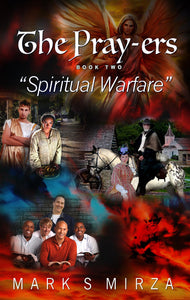 CTM Publishing
The Pray-ers - Book 2 "Spiritual Warfare"
Regular price
$19.99
Sale price
$24.95
The Pray-ers - Book 2 "Spiritual Warfare"
Learning about Spiritual Warfare because your potential father-in-law is the son of Caiphas, is not fair. Nor is it fair to teach a nineteenth-century town to deal with Spiritual Warfare when the town is turned upside down by innuendo and gossip. And then there is the modern-day track coach whose prayer group has just made a name for themselves in hell.
Three prayer heroes, from three eras, on two continents will take you on a wild ride into understanding Spiritual Warfare as that in which you ALREADY have victory.
The book begins with the death of Christ, as told by the angel Hael. He will make you laugh and cry. Christians in the book will cause you to rejoice, to get angry and to even become embarrassed.
But watching them (most of them) submit to the Lord, you'll see the truth of Romans 8:28, all things will work together to the good for those who love God and are called to His purposes.
Kind of. . .

About the Author:
Mark S Mirza, This is Mark's 3rd novel, and the second in this series. He always teaches if you want to learn to pray, get around people who pray. In his novels you will see men and women model prayer so you can learn from them, both good pray-ers, and not so good.
He has been teaching prayer for over a decade, and you will see his insights in this fun read.
He is married to Naida and they live in Atlanta, but spend their spare time with their horse, Jumper. Find them, the ministry and Jumper, on Facebook, Twitter, Instagram and YouTube.
---
Share this Product
---