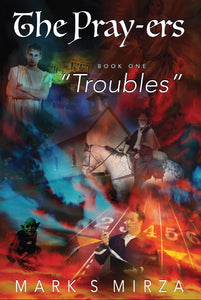 CTM Publishing
The Pray-ers - Book 1 "Troubles" (Digital)
Regular price
$4.99
Sale price
$9.99
Digital Version PDF
The Pray-ers: "Troubles"

Troubles is the first book in a three-part series that teaches prayer through the fun of a novel.
There are 3 Prayer Heroes, over 3 Historic Eras, across 2 Continents, 1 Nine Foot Tall Angel, and a host of demons.
Author's Note:
As I write this book the desired outcome is very specific and very simple. First, admittedly I want you to learn prayer. I donít just want you to learn ABOUT prayer, but I want to hear of prayer becoming who you are, how you breathe Christianity if you will. So to reach that aim you will see much repetition by various characters in various situations, but handling the problems the same way. Secondly, and this is very important to me: I want you to enjoy yourself.
Digital Download
---
Share this Product
---